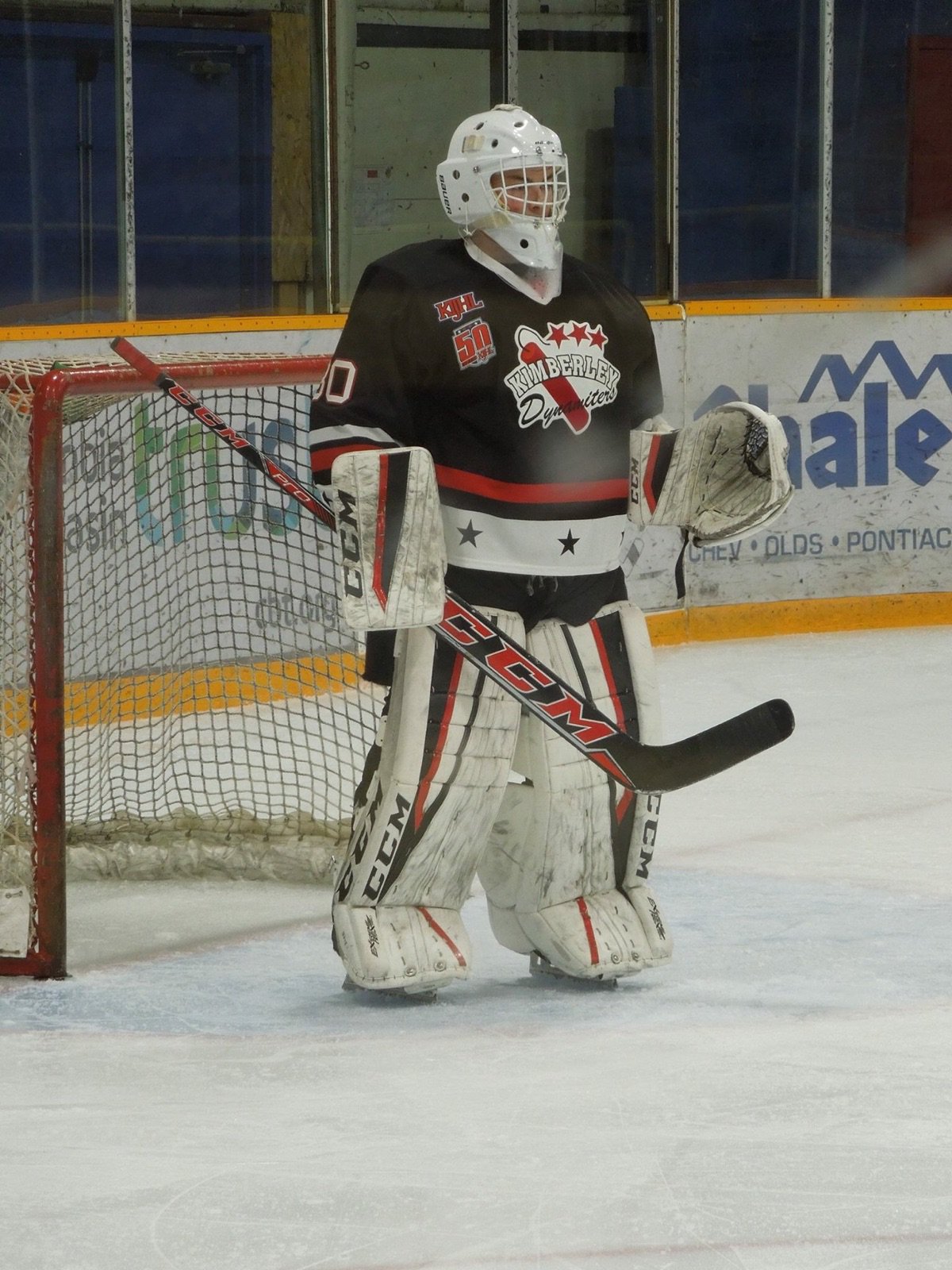 The Kimberley Dynamiters have signed Adam Andersen ('00), a local goaltender and affiliate player from last season.
"We really liked what we saw from Adam last year when played and practiced with us." Said head coach and general manager Derek Stuart. "What we saw from him was not just his goaltending ability, but his attitude, the way he works, he is overall an great kid."
"He performed well in the games he got to play in. His potential as a goaltender and everything else is fantastic."
Signing with the Nitro's is a dream come true for the hometown goaltender.
"It's huge for me. It's a goal I've had since I was a little kid. Being in Grade 12 and playing for the Dynamiters is something I have always wanted to do."
While statistically speaking, it was a small sample size of two games for Andersen, he had fantastic goaltending numbers and had the best numbers on the team last season. He posted two wins in his two starts while recording a 2.39 goals against average and a .904 save percentage.
For Andersen, he doesn't believe it was his numbers were the reason he was signed.
"I played as well as I could, but I have been practicing with the team for two years now. I was there every week last year. I got to know the coaches and team well. I felt like I was a part of the team. It was working hard in practice that made this come true."
On top of practicing with the Nitro's, Andersen was a goaltender for the Cranbrook Dynamiters, Midget AA, in the South Central Alberta Junior Hockey League. The team lost all 36 of their games. As a result, Andersen was the last line of defence and was peppered with pucks facing more than a shot per minute.
Andersen wants to continue to fulfill his hopes and dreams with the Dynamiters.
"My goal is to be a starter. It is my first year in junior hockey, I am just going to do what I can. If it's available to me, I'll try to take control of it. It's one of my goals, but not what I am expecting to happen. It's a very good league. I'm looking to just play my best, and go from there."
As for the goaltending situation right now for the Nitro's, they still have the rights to Cody Campbell but expect and hope him to move on to Junior A. That currently leaves Andersen and Cody Call manning the crease.